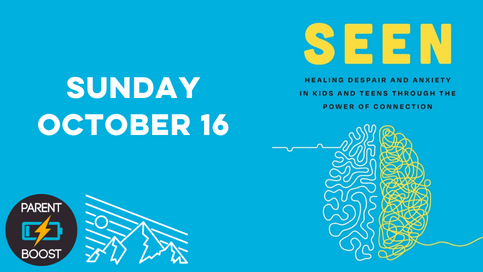 October 16, 2022 11:00am
Contact:
Join us for a round table discussion based on the book Seen: Despair and Anxiety in Kids and Teenagers and the Power of Connection by Will Hutcherson. We will meet in the Student Room at 11am. A light lunch will be served, and childcare and a book will be provided.
"A two-hour read to build a stronger relationship with a kid or teenager.
Whether you're a parent, youth leader, teacher, or caring adult, not knowing how to help those dealing with difficult emotions can leave you feeling intimidated, powerless, and discouraged. It can feel scary.
But we want you to know there is hope.I
n this book, Will and Dr. Chinwé will help you understand how the brain works when someone is in despair, learn why some of the things you'd think would help sometimes make matters worse, and discover simple yet powerful tools you can use every day to connect with a kid or teenager to help them heal.
A beautiful convergence of faith and psychology, Seen is a quick read that uses both clinical research and real life stories to give you--and the kids you love--hope."